Hey Doll Fans! Looking for Fashion Avenue to add to your collection? Please use these buttons to start your search:




BarbieReference.com is ad-supported. When you buy through links on our site, we may earn an affiliate commission (at no cost to you), which helps to keep the site online and updating.
Big changes come to Fashion Avenue line in 2001. The Accessory line continues but changes from a few items designed to complement a fashion to a lot more random items per package. I much prefer the new Accessory Packs, now called Accessory Bonanza. They are much better value for money, and you could describe them as having themes I listed below. My only complaint is that there are only four Accessory Bonanza packs released this year. The latest fashion accessories and realistic play pieces that let girls play out lots of lifestyle play patterns with Barbie doll. Each pack features several fun themes such as gardening or vacationing and comes with lots of accessories plus plastic and chip art pieces.
Assortment Number 28868
Item Number 28869 – Off To College theme, shoes to start the school year plus art supplies, purse accessories and toiletries.
Item Number 28870 – Garden and Beach Theme with snacks.
Item Number 50958 – Art class theme with a few supplies for the beach like visor, sandals, and volleyball.
Item Number 50950 – Business class and workout theme with a few dinner date accessories.
Above text adapted from 2001 Mattel USA Vendor Catalog.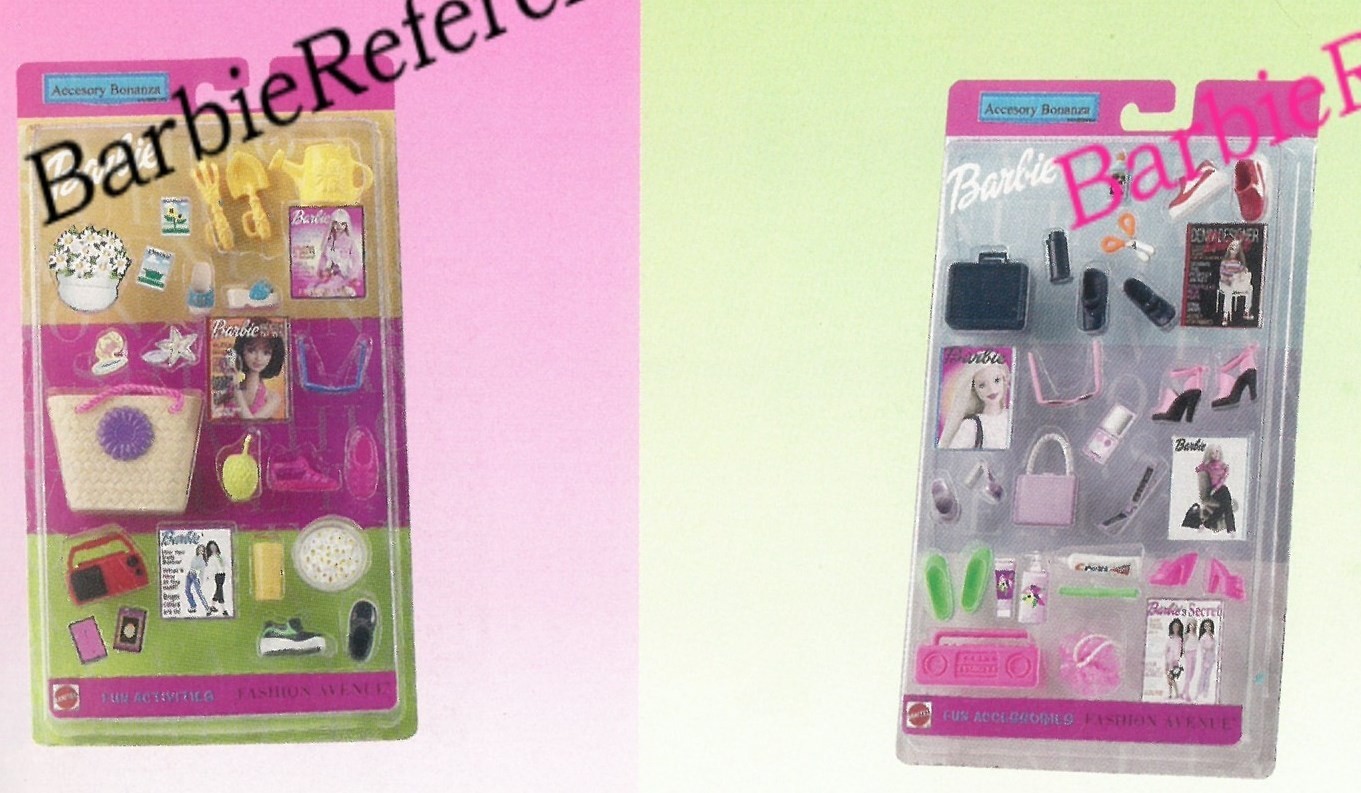 BarbieReference.com is a work in progress. I want to get up as many images as soon as possible. This Fashion Avenue post includes in-package images of all fashions in this line for this year. Posts for each fashion pack, and it's contents (dresses, shoes, accessories) will be added when they are available.
There are major differences between BarbieReference.com
Fashion Avenue line names and years and other websites read about them here.