Hey Doll Fans! Looking for Fashion Avenue to add to your collection? Please use these buttons to start your search:




BarbieReference.com is ad-supported. When you buy through links on our site, we may earn an affiliate commission (at no cost to you), which helps to keep the site online and updating.
In 2002 Fashion Avenue brought back a denim line, called Blues. The Blues line package has a different background from the standard Fashion Avenue line. The front background is a photograph of a denim pocket, there is also a pocket with Barbie logo on the front of the package. The individual fashion packs don't have names. A collection of casual denim-look styles, designed exclusively for Barbie doll. Each fashion features Barbie doll's own cool logo and comes with coordinating shoes. These contemporary pants and skirt outfits give Barbie doll a hip new look.
Assortment Number 55516
Item Number 52826 – Dark denim skirt with glitter floral pattern, matching silver glitter top.
Item Number 55511 – Dark denim look pants, gold halter top.
Item Number 55512 – Dark denim look short skirt and jacket. Blue two-tone shoes.
Item Number 55513 – Medium shade denim look pants with multi colored floral pattern, white tank top.
Item Number 55515 – Medium shade denim look pants with gold trim, red and black top.
Above text adapted from 2002 Mattel USA Vendor Catalog and Sell Sheets.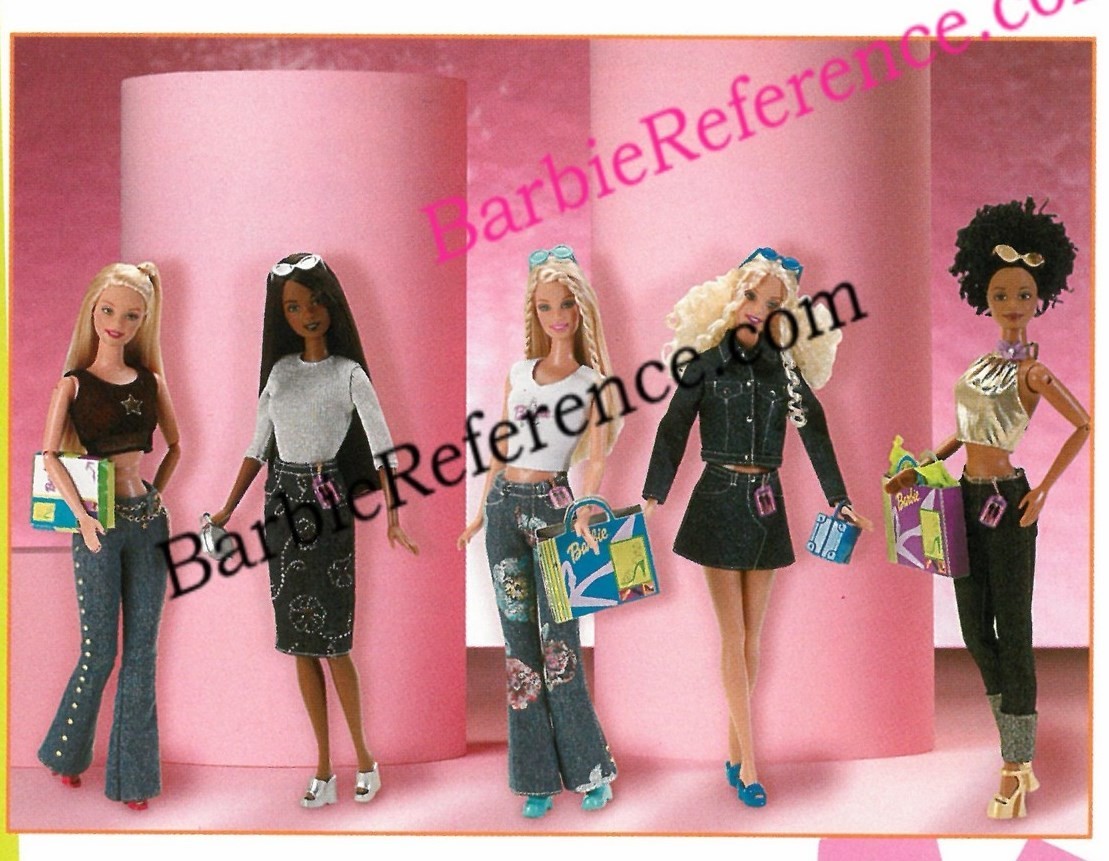 BarbieReference.com is a work in progress. I want to get up as many images as soon as possible. This Fashion Avenue post includes in-package images of all fashions in this line for this year. Posts for each fashion pack, and it's contents (dresses, shoes, accessories) will be added when they are available.
There are major differences between BarbieReference.com
Fashion Avenue line names and years and other websites read about them here.