Hey Doll Fans! Looking for Fashion Avenue to add to your collection? Please use these buttons to start your search:




BarbieReference.com is ad-supported. When you buy through links on our site, we may earn an affiliate commission (at no cost to you), which helps to keep the site online and updating.
In 2000 the Fashion Avenue line packages got a major re-design and new line names. Each fashion pack has a name in addition to an item number. This year the Kelly line includes one fashion pack for Tommy, and "Baby sister of Barbie doll" is dropped from the line name. There are no Ken and Tommy fashions in the Matchin' Styles line. Adorable mix and match fashions for Kelly doll. Everything Kelly needs to look her very best, from a pretty party dress to a cute bug costume. The collection includes styles to let Kelly look her very best for every occasion, whether she's going to school, playing at the beach, even dressing up for a costume party.
Assortment Number 25754
Item Number 23404 – Yipes Tripes daisy dress.
Item Number 24305 – 1st Day Of School magenta check back-to-school dress.
Item Number 24306 – Birthday Party pastel party dress.
Item Number 24307 – Shop Hop Fashion gardening theme.
Item Number 24308 – Beach Fun fish print outfit.
Item Number 24309 – Picnic In The Park red gingham outfit.
Item Number 24310 – Costume Contest bug costumes.
Item Number 24495 – Little Driver Fashion Tommy's pack.
Item Number 27296 – Little Frosty Fashion winter theme.
Item Number 27297 – Soccer Star Fashion yellow and blue soccer uniforms.
Above text adapted from 2000 USA Pre-Toy Fair Sell Sheets, Mattel USA and UK Vendor Catalogs.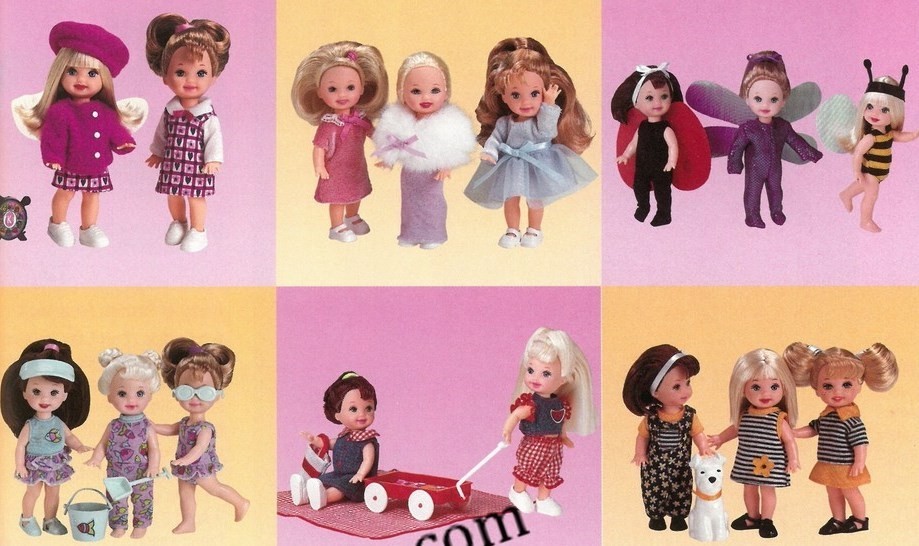 BarbieReference.com is a work in progress. I want to get up as many images as soon as possible. This Fashion Avenue post includes in-package images of all fashions in this line for this year. Posts for each fashion pack, and it's contents (dresses, shoes, accessories) will be added when they are available.
There are major differences between BarbieReference.com
Fashion Avenue line names and years and other websites read about them here.