Hey Doll Fans! Looking for Fashion Avenue to add to your collection? Please use these buttons to start your search:




BarbieReference.com is ad-supported. When you buy through links on our site, we may earn an affiliate commission (at no cost to you), which helps to keep the site online and updating.
Ken continues to have his own line in 2001. He does not have a tuxedo this year. Cool, hip looks that make Ken doll look great, whether he's playing his favorite sport, going out with Barbie doll or just hanging out with friends.
Assortment Number 25752
Item Number 28160 – Muscle Beach Fashion.
Item Number 28161 – Wave Slayer Fashion.
Item Number 28162 – Deal Maker Fashion.
Item Number 28163 – Action Flick Fashion.
Item Number 29678 – Cruisin' The Pier Fashion two variations one with dark sunglasses, one with light.
Item Number 29679 – Ken Dot Com Fashion, comes with a Ken size laptop showing a fan page for Ken.
Item Number 29680 – Sweet Talker Fashion, comes in two variations one with a dark brown leather look jacket, and one a lighter brown leather look jacket.
Item Number 29681 – Euro Trekker Fashion
Item Number 29683 – In The House Fashion
Item Number 50291 – Hey Romeo! Fashion
Above text adapted from 2001 Mattel USA Vendor Catalog.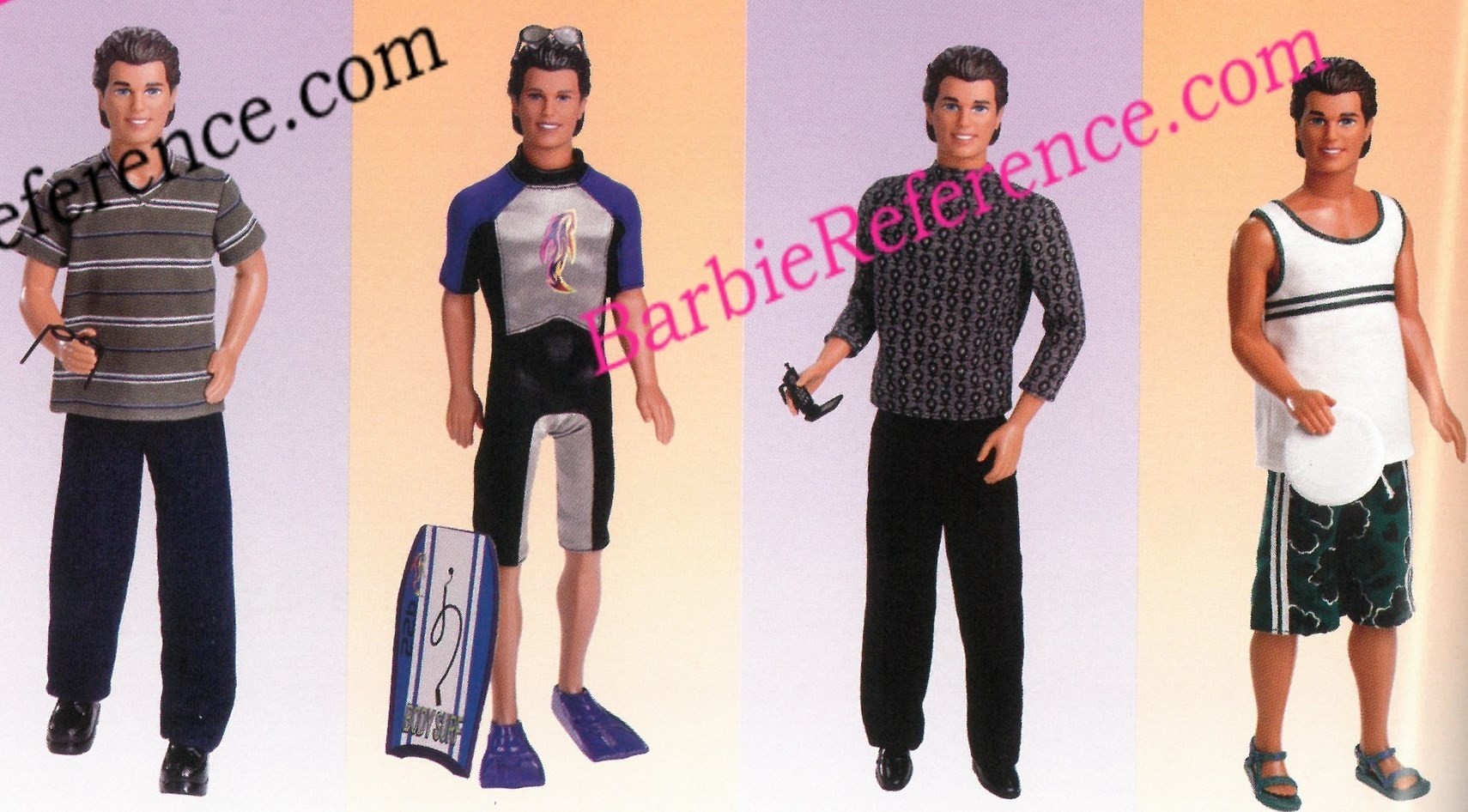 BarbieReference.com is a work in progress. I want to get up as many images as soon as possible. This Fashion Avenue post includes in-package images of all fashions in this line for this year. Posts for each fashion pack, and it's contents (dresses, shoes, accessories) will be added when they are available.
There are major differences between BarbieReference.com
Fashion Avenue line names and years and other websites read about them here.