Hey Doll Fans! Looking for Fashion Avenue to add to your collection? Please use these buttons to start your search:




BarbieReference.com is ad-supported. When you buy through links on our site, we may earn an affiliate commission (at no cost to you), which helps to keep the site online and updating.
There is no separate Lingerie nor Denim line in the regular, sold at all stores, Fashion Avenue series, but there are lingerie and sleepwear fashions in both the Charm and Metro lines this year. There are several fashions with denim look fabric in Charm and Metro too. The Accessory line continues but changes from a few items designed to complement a fashion to a lot more random items per package. The coolest styles, fabrics and colors, designed to give Barbie doll's wardrobe a hip, new look. The collection features trendy styles girls will love, including casual and dress looks. Each fashion comes with shoes and accessories.
Assortment Number 25701
Item Number 28118 – Gala In Chicago Fashion
Item Number 28119 – Premiere In New York Fashion
Item Number 28125 – Shopping On Melrose Fashion
Item Number 28127 – Brunch In Boston Fashion
Item Number 28132 – Kiss Me In Miami Fashion
Item Number 28137 – Seattle Latte Fashion
Item Number 28143 – Colorado Coed Fashion
Item Number 29112 – Gulf Coast Getaway Fashion. This fashion also sold as a set with a basic Barbie doll.
Item Number 50517 – Funky In Philly Fashion
Item Number 50518 – Soho Scene Fashion
Item Number 50519 – Palm Beach Party Fashion
Item Number 50520 – Lunch In Little Italy Fashion
Item Number 50525 – A.M. In Aspen Fashion
Item Number 50526 – New Orleans Stroll Fashion
Above text adapted from 2001 Mattel USA Vendor Catalog.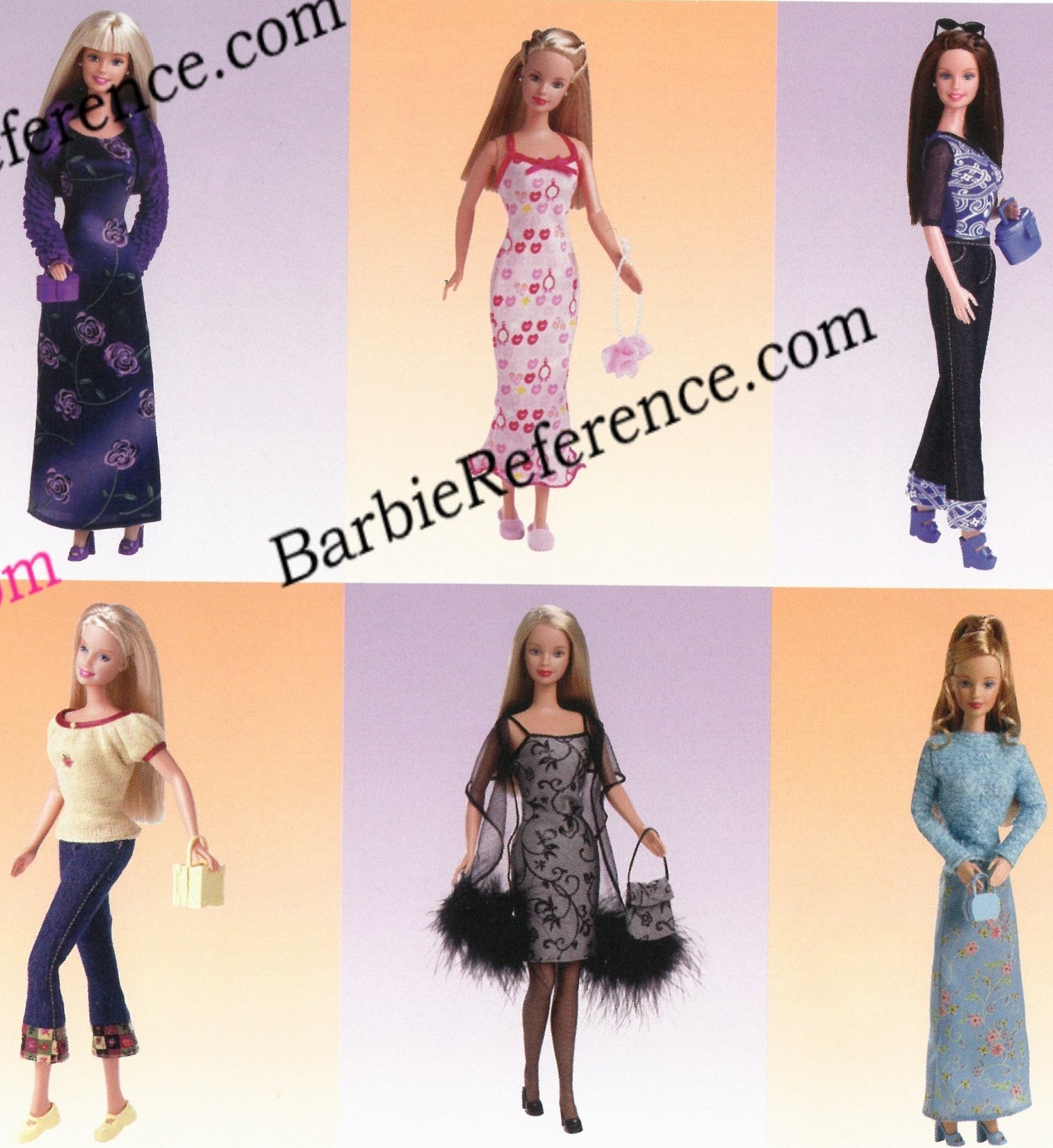 BarbieReference.com is a work in progress. I want to get up as many images as soon as possible. This Fashion Avenue post includes in-package images of all fashions in this line for this year. Posts for each fashion pack, and it's contents (dresses, shoes, accessories) will be added when they are available.
There are major differences between BarbieReference.com
Fashion Avenue line names and years and other websites read about them here.