Hey Doll Fans! Looking for Fashion Avenue to add to your collection? Please use these buttons to start your search:




BarbieReference.com is ad-supported. When you buy through links on our site, we may earn an affiliate commission (at no cost to you), which helps to keep the site online and updating.
The Teen Skipper has a slightly different package design this year. Instead of two "snapshots" the back shows three Skipper fashions and a circle showing the separate Special Collection accessory sets. The text on back of package is: "Real clothes for Teen Skipper doll! Fashion Avenue Clothes What are the coolest teens wearing? Take a look at Teen Skipper! Collect all your favorite Fashion Avenue Clothes. Also look for Barbie Special Collection Sets. Check out the coolest fashions at our web site Visit us at http:// www.barbie.com Fashions fit most Teen Skipper dolls. Dolls and fashions sold separately, subject to availability. Colors and accessories may vary."
Fresh, hip, high school fashions for Skipper doll. Skipper's trendy outfits really suit her. These new clothes look amazing!
Assortment Number 18379
Item Number 20623
Item Number 20624
Item Number 20625 – Not pictured in catalog, but on back of package.
Item Number 20627
Item Number 22877 – Re-design from previous year. Not pictured in catalog.
Item Number 22926
Item Number 22927 – Has cardboard accessory.
Item Number 23132
Item Number 23133
Item Number 23134
Item Number 23135 – Has cardboard accessory.
Above text adapted from 1999 Mattel USA Vendor Catalog.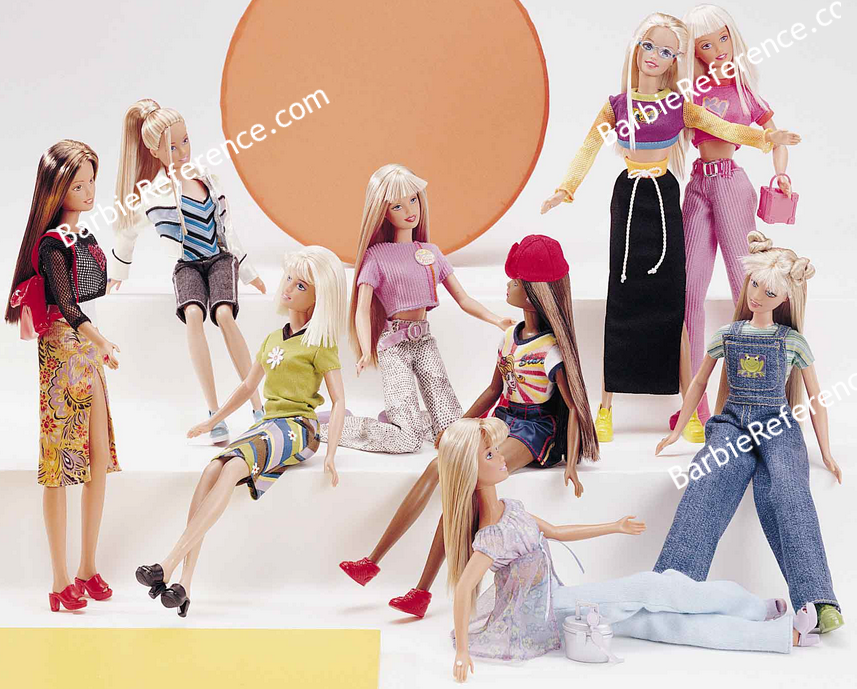 BarbieReference.com is a work in progress. I want to get up as many images as soon as possible. This Fashion Avenue post includes in-package images of all fashions in this line for this year. Posts for each fashion pack, and it's contents (dresses, shoes, accessories) will be added when they are available.
There are major differences between BarbieReference.com
Fashion Avenue line names and years and other websites read about them here.