Hey Doll Fans! Looking for Fashion Avenue to add to your collection? Please use these buttons to start your search:




BarbieReference.com is ad-supported. When you buy through links on our site, we may earn an affiliate commission (at no cost to you), which helps to keep the site online and updating.
The copyright year on this package is 2001. I have found several articles that list this line as sold exclusively in Australia. I cannot find information on when it was first sold in stores and it is not included in Mattel Vendor Catalog's for 2000 or 2001 so I am listing with 2001 Fashion Avenue. These are re-issues with only the packaging changed. I realize this is strange for a collection to skip a year, but it's not impossible, and it's very common for store exclusive fashions and dolls to have the year they are first sold to match the copyright year on package. The back of the package has brighter color blocks, but the text remains the same. The text on the back of package is Fashion Avenue Clothes Barbie doll models the latest fashions from 4 of Australia's top designers! Mooks: Check out Barbie doll in her MOOKS-designed denim cuff skirt and red hooded jacket. Designed for MOOKS by Sally McDonald. Third Millennium: Barbie is ready for a day on the town in this sweater, stretch pants, and printed top all by Third Millennium. Jonathan Ward: It's an evening to remember as Barbie doll accepts her award in Jonathan Ward's stunning pink evening gown complete with crown. Joseph Saba: Barbie looks so hip in her pink and orange stretch skirt with grey coat, designed by Joseph Saba, from the design firm Saba. Check out the coolest fashions at our web site. Visit us at www.barbie.com Fashions fit most Barbie dolls. Dolls and fashions sold separately, subject to availability. Colours and accessories may vary. Check out our hip fashions at Barbie.com
Assortment Number 24438
Item Number 23729 – Joseph Saba
Item Number 23730 – Mooks
Item Number 23731 – Third Millenium
Item Number 23732 – Jonathan Ward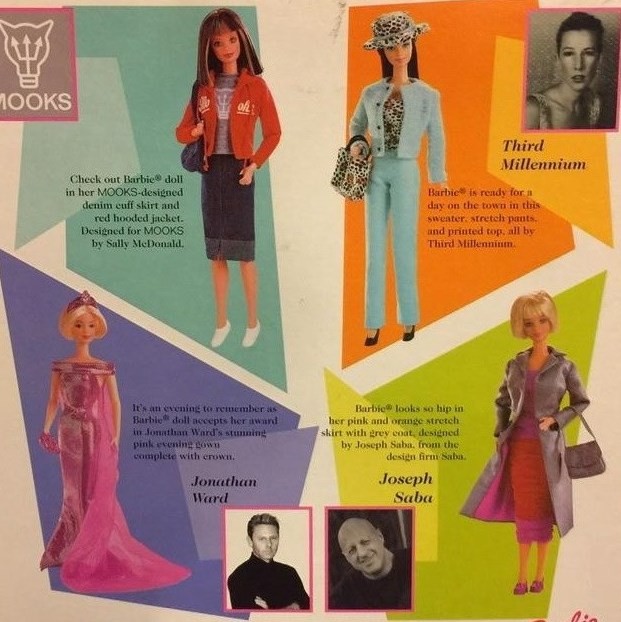 BarbieReference.com is a work in progress. I want to get up as many images as soon as possible. This Fashion Avenue post includes in-package images of all fashions in this line for this year. Posts for each fashion pack, and it's contents (dresses, shoes, accessories) will be added when they are available.
There are major differences between BarbieReference.com
Fashion Avenue line names and years and other websites read about them here.