Hey Doll Fans! Looking for Fashion Avenue to add to your collection? Please use these buttons to start your search:




BarbieReference.com is ad-supported. When you buy through links on our site, we may earn an affiliate commission (at no cost to you), which helps to keep the site online and updating.
The denim line is named Authentic Jeans again his year, but has a different inside of package background, white with grey pencil line scenes of a bedroom and a coat rack style mannequin. The big difference is in the back of package design. Gone are the "runway" or "snapshot" designs. This line has photos of Barbie in three fashions with text pointing out details. The full text is "Barbie Fashion Avenue Clothes Authentic jeans for Barbie doll! Sassy crop top! Bold top-stitching! Awesome apron dress! Platform mules! Fab floral accents! Cool flare style! Look for all your favorite Fashion Avenue clothes. Check out the coolest fashions at our web site. Visit us at http:// www.barbie.com. Fashions fit most Barbie dolls. Dolls and fashions sold separately, subject to availability. Colors and accessories may vary." This year one denim line fashion pack has "chip board" or very thin cardboard accessories. There are no oval Authentic Jeans logos on the fashions themselves, even though there were in 1998. Barbie doll's own line of realistic, detailed, trendy denim.
Assortment Number 19179
Item Number 20597
Item Number 20598 – Not included in vendor catalog picture
Item Number 26397
Item Number 20601
Item Number 23120
Item Number 23121 – The produced fashion pack has a different top then what is shown in the catalog.
Above text adapted from 1999 Mattel USA Vendor Catalog.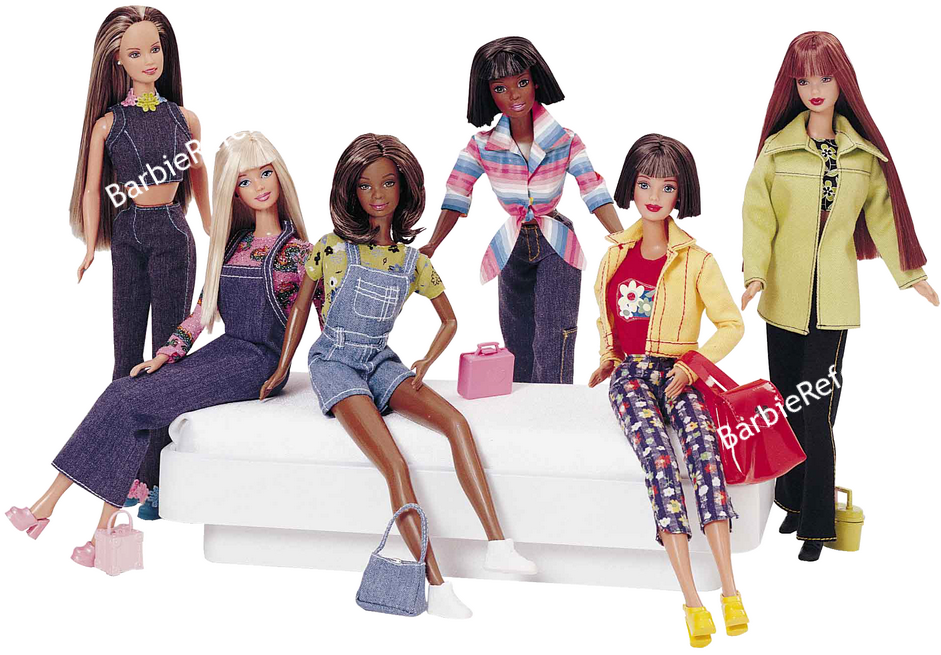 BarbieReference.com is a work in progress. I want to get up as many images as soon as possible. This Fashion Avenue post includes in-package images of all fashions in this line for this year. Posts for each fashion pack, and it's contents (dresses, shoes, accessories) will be added when they are available.
There are major differences between BarbieReference.com
Fashion Avenue line names and years and other websites read about them here.