Hey Doll Fans! Looking for Fashion Avenue to add to your collection? Please use these buttons to start your search:




BarbieReference.com is ad-supported. When you buy through links on our site, we may earn an affiliate commission (at no cost to you), which helps to keep the site online and updating.
This year Fashion Avenue included a three fashion pack line Lifetyles. They include a lot more accessories than the average Fashion Avenue fashion and are themed pet doctor, world traveler and inline skater.
A fourth Barbie & Kelly Fashion pack is shown in the catalogs but wasn't produced. The pet doctor outfit and accessories was also produced as a doll. The back of the package has the following text, they include asterisks but I'm not sure why. Barbie Fashion Avenue Collection Real clothes for Barbie doll and friends! Veterinarian** Barbie helps your pet feel better. "Open your mouth little puppy!" Traveler* Barbie visits exciting places. "What country should we visit first?" In-Line Skater Barbie loves to in-line skate. "I never forget my helmet when I skate." Fashions fit most Barbie dolls. Dolls and fashions sold separately, subject to availability. Colors and accessories may vary. Check out the coolest fashions at out web site. Visit us at www.barbie.com
Lifestyles: Each set is a complete play pattern with realistic, detailed fashions and complementary play pieces. Three fun fashions, including pet doctor, world traveler and inline skater!
Assortment Number 23022
Item Number 23023 – Veterinarian
Item Number 23024 – World Traveler
Item Number 23025 – Inline skater
Above text adapted from 1999 Mattel USA Vendor Catalog.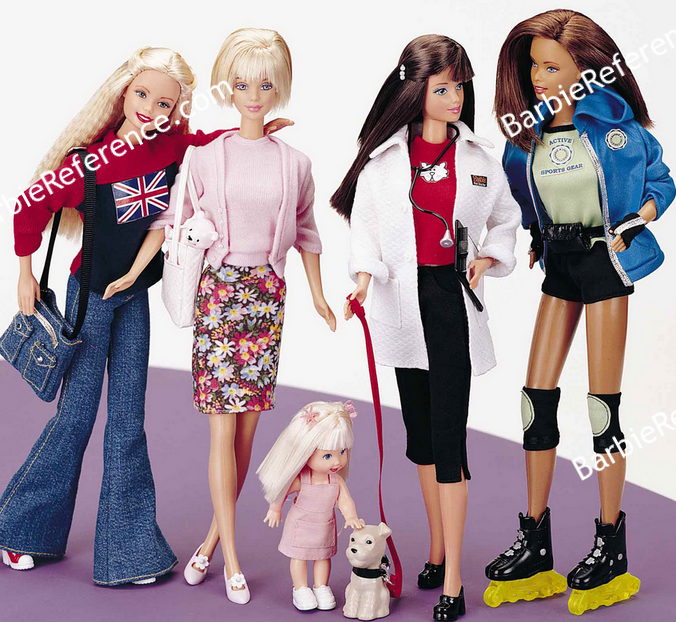 BarbieReference.com is a work in progress. I want to get up as many images as soon as possible. This Fashion Avenue post includes in-package images of all fashions in this line for this year. Posts for each fashion pack, and it's contents (dresses, shoes, accessories) will be added when they are available.