Hey Doll Fans! Looking for Fashion Avenue to add to your collection? Please use these buttons to start your search:




BarbieReference.com is ad-supported. When you buy through links on our site, we may earn an affiliate commission (at no cost to you), which helps to keep the site online and updating.
There is no separate Lingerie line in the regular, sold at all stores, Fashion Avenue series and there is no store exclusive Lingerie line this year either. But there are lingerie and sleepwear fashions in both the Charm and Metro lines this year. Trendy fashions to make Barbie doll look hip for every occasion. The collection includes casual and dressy looks in all the latest fabrics and colors. Each fashion includes an accessory, shoes and play pieces.
Assortment Number 25701
Item Number 52822 – Dreamin' In The Dakotas satiny pajamas, purple
Item Number 52819 – Marvelous in Milan pink and orange skirt and top.
Item Number 52820 – Broadway Premiere black top long skirt.
Item Number 52821 – Shopping in Shinjuku jeans with two layer top
Item Number 52823 – Stylin' in Stockholm pale blue biker jacket, floral pattern pants.
Item Number 52824 – Tokyo Beat printed t-shirt with long blue skirt.
Item Number 52825 – London Tour brown suede look skirt, maroon fluffy top.
Item Number 52880 – Yacht Club Holiday long blue dress with blue sparkly jacket.
Item Number 56098 – Shopping Spree in Paree pink pants outfit.
Item Number 56099 – Pajama Jam In Amsterdam – sleeveless pajama outfit with pink "fur" trim.
Item Number 56101 – Red-Hot In Rio, black and white halter top with sparkly red pants.
Item Number 56102 – Center Stage In Cannes blue dress with matching accessories.
Item Number 56105 – Cruisin' Thru Cali – lime green skirt, floral top and khaki jacket.
Above text adapted from 2002 Mattel USA Vendor Catalog and Sell Sheets.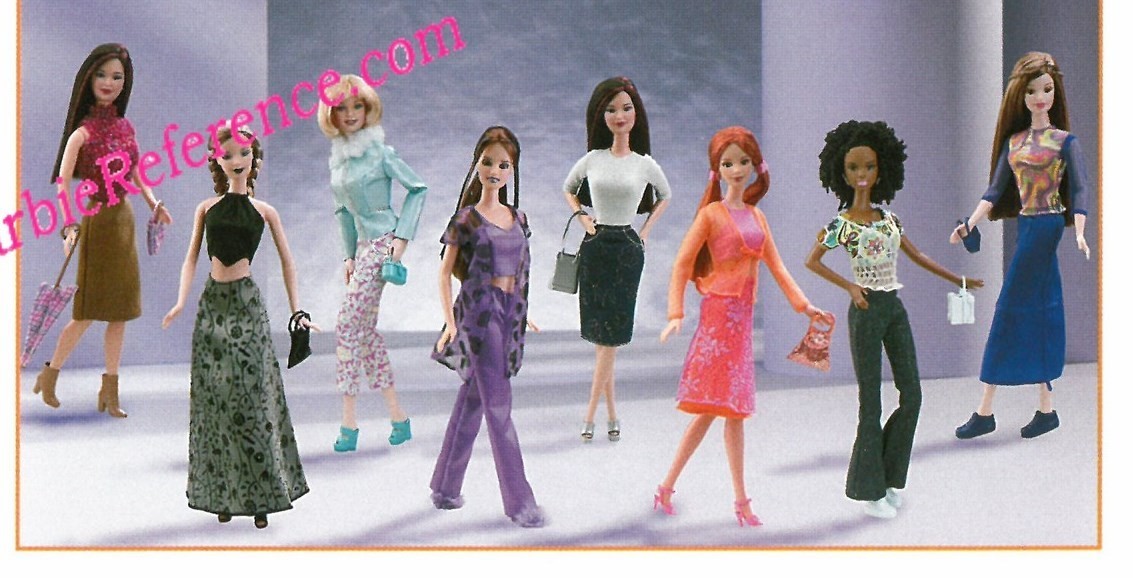 BarbieReference.com is a work in progress. I want to get up as many images as soon as possible. This Fashion Avenue post includes in-package images of all fashions in this line for this year. Posts for each fashion pack, and it's contents (dresses, shoes, accessories) will be added when they are available.
There are major differences between BarbieReference.com
Fashion Avenue line names and years and other websites read about them here.