Hey Doll Fans! Looking for Fashion Avenue to add to your collection? Please use these buttons to start your search:




BarbieReference.com is ad-supported. When you buy through links on our site, we may earn an affiliate commission (at no cost to you), which helps to keep the site online and updating.
In 2000 the entire Barbie line got a new logo, similar to the original 1959 logo in that it's cursive, but it's at an angle and slightly different font. The Fashion Avenue line packages got a major re-design and new line names. Each fashion pack has a name in addition to an item number. The Trend City line continues, but instead of plastic nail tips, hair "jewels" intended for children are included. I can only find three of the six Trend City fashion packs shown in Sell Sheets for this year. This is the last year for the Trend City line. A hip collection of trendy looks for Barbie doll, complete with hair gems and decorative stickers for the girl. Contemporary styles with cool hair gems Barbie doll and girls can share! Each fashion comes with for large and two small hair gems for hours of styling fun. Each fashion includes shoes and accessories.
Assortment Number 28533
Item Number 27037 – Matinee & Latte Fashion floral pants and black leather look jacket.
Item Number 27033 – Show Boat Fashion pink boa and turquoise party dress.
Item Number 27034 – Urban Orbit Fashion silvery dress and blue quilted jacket.
Above text adapted from 2000 USA Pre-Toy Fair Sell Sheets, Mattel USA and UK Vendor Catalogs.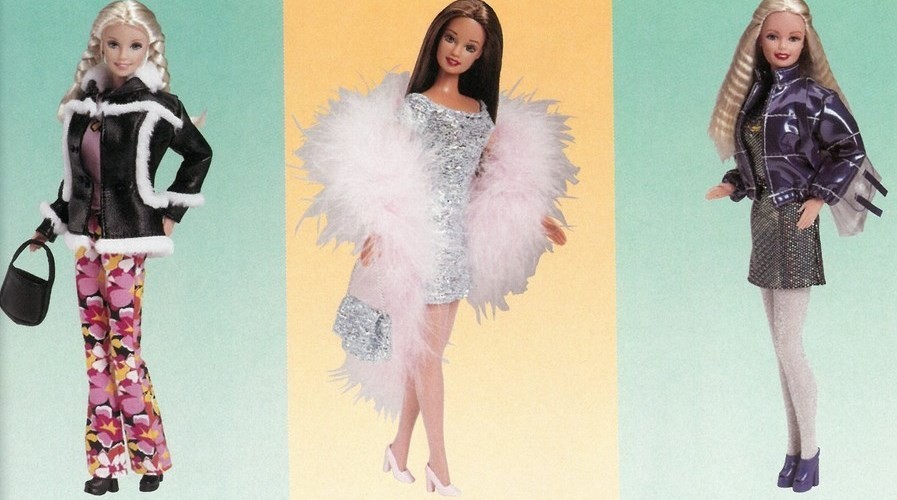 BarbieReference.com is a work in progress. I want to get up as many images as soon as possible. This Fashion Avenue post includes in-package images of all fashions in this line for this year. Posts for each fashion pack, and it's contents (dresses, shoes, accessories) will be added when they are available.
There are major differences between BarbieReference.com
Fashion Avenue line names and years and other websites read about them here.