Hey Doll Fans! Looking for Fashion Avenue to add to your collection? Please use these buttons to start your search:




BarbieReference.com is ad-supported. When you buy through links on our site, we may earn an affiliate commission (at no cost to you), which helps to keep the site online and updating.
In 1997 Mattel added Fashion Avenue line names to the packages. There is a separate Bridal line this year and one wedding gown is included in the Evening Wear line, but it is a repeat from last year. The Bridal line interior packages have a pink instead of cream background. I have also seen this wedding gown with a pink body form, and Deluxe, on the package. The 1997 Mattel USA Vendor catalog gives each fashion a theme name, but it isn't included anywhere on the package. Beautiful bridal fashions for Barbie doll, including shoes and accessories
Assortment Number 15897
Item Number 15898 – Country: White gown with pink rosettes.
Item Number 15899 – Princess: White gown with lace trim.
Item Number 15900 – Mermaid: White gown with shoulder wrap.
Item Number 15901 – Winter Bride: White velvet gown with "fur" trim.
Assortment Number 17330
Item number 14398 – Full flowing lace-embellished white wedding gown with bouquet and veil. (1996 re-issue)
Above text adapted from 1997 Mattel USA Vendor Catalog.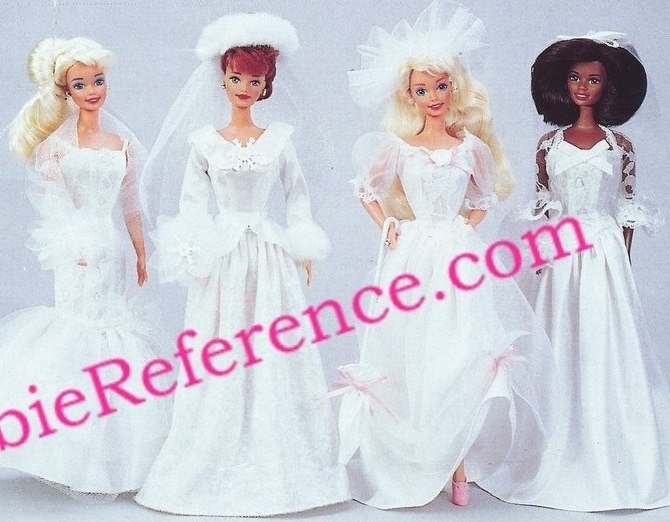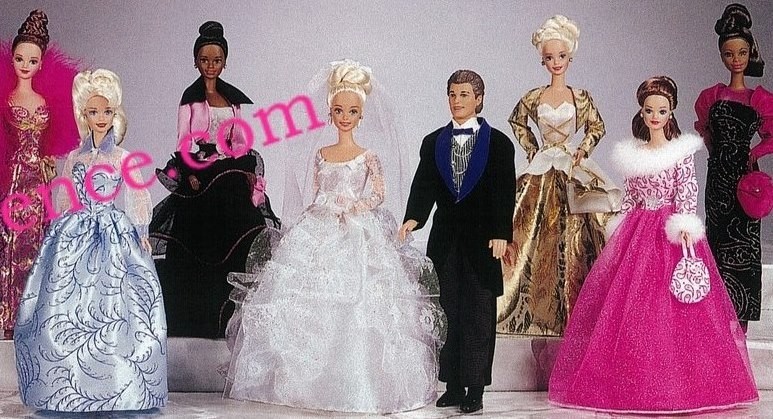 BarbieReference.com is a work in progress. I want to get up as many images as soon as possible. This Fashion Avenue post includes in-package images of all fashions in this line for this year. Posts for each fashion pack, and it's contents (dresses, shoes, accessories) will be added when they are available.
There are major differences between BarbieReference.com
Fashion Avenue line names and years and other websites read about them here.