Hey Doll Fans! Looking for Fashion Avenue to add to your collection? Please use these buttons to start your search:




BarbieReference.com is ad-supported. When you buy through links on our site, we may earn an affiliate commission (at no cost to you), which helps to keep the site online and updating.
In 1998 Mattel continued the Fashion Avenue line names on packaging. This year the denim focused line is named "Authentic Jeans." I don't have any of these fashions in my collection now so I can't feel the fabric to confirm it is actually denim and not a denim look print. The denim line packaging has some big changes. The background of the inside of front package has a black and white photo look, with two "wood" tables printed. The back of package features Barbie in the fashions in a city scene background. There is a denim vest and pant suit that is pictured in the 1998 Mattel USA Vendor Catalog that is not in the photograph on the back of the package and was not released. There are some re-designed and re-issued fashions this year, but the Authentic Jeans line is completely new. The catalog describes this as "branded" but I don't know of any fashion line for people called "Authentic" or "Authentic Jeans" in the USA, unlike the "Lee" jeans Barbie fashions released in 1996. "Lee" jeans was a denim brand available in 1996 and continues to be sold in the USA today, lee.com. Barbie doll's very own branded line of cool, casual "denims" by Fashion Avenue.
Assortment Number 19179
Item Number 19180
Item Number 19181
Item Number 19182
Item Number 19184
Item Number 19185
Item Number 19186
Above text adapted from 1998 Mattel USA Vendor Catalog.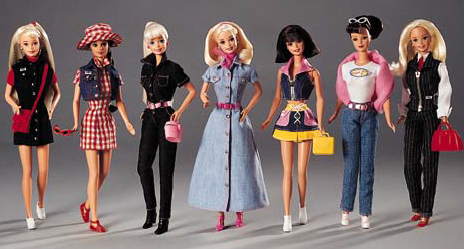 BarbieReference.com is a work in progress. I want to get up as many images as soon as possible. This Fashion Avenue post includes in-package images of all fashions in this line for this year. Posts for each fashion pack, and it's contents (dresses, shoes, accessories) will be added when they are available.
There are major differences between BarbieReference.com
Fashion Avenue line names and years and other websites read about them here.