Hey Doll Fans! Looking for Fashion Avenue to add to your collection? Please use these buttons to start your search:




BarbieReference.com is ad-supported. When you buy through links on our site, we may earn an affiliate commission (at no cost to you), which helps to keep the site online and updating.
The Matchin' Styles line now includes three fashions for Ken and Tommy, with their names on the front inside package background. The arches on the inside of the packaging is blue with no flowers and columns to "hold" accessories instead of tables. Barbie and Kelly's package has the pink arches and flowers similar to last years, but printed stools, instead of tables to "hold" accessories. The back of the package has photographs of Barbie, Kelly, Ken and Tommy with the text "Real Clothes For Barbie doll! Kelly, Ken and Tommy dolls too! Fashion Avenue Collection Barbie & Kelly Baby Sister of Barbie doll Ken & Tommy Baby Brother of Ken. Clip-out these pretty framed pictures of Barbie & Kelly and Ken & Tommy. Hang them up or give them to a friend! Collect matching fashions for Barbie and Kelly and Ken and Tommy!". Barbie & Kelly's fashions have the same inside package background as last year. Cool matching looks for Barbie doll and Kelly doll, Ken doll and Tommy doll, featuring realistic details, fabrics, and styles. Girls will love dressing their favorite sisters and brothers alike! A wide range of different matching outfits for Barbie and Shelly or Ken and Tommy.
Assortment Number 18111
Item Number 18112 – Denim vest, white t-shirt with heart print, pink and white check pants outfit. White shoes for both Barbie and Kelly. Heart shaped glasses also for both.
Item Number 18113 – Floral bathing suit with yellow cover-up, pink visors and sandals. Matching for Barbie and Kelly. Not pictured on the back of package but included in 1998 Mattel USA Vendor Catalog photos.
Item Number 18114 – Red raincoat with black and white herringbone collar and "umbrella." White pantyhose, black plastic ankle boots for Barbie. White tights with fabric boots and a yellow rubber ducky for Kelly.
Item Number 18115 – Purple and black jumper dresses for Kelly and Barbie. Both have long sleeve lace tops and pantyhose. Purses are an exact match with Kelly's slightly smaller than Barbie's. Shoes are the same deep lavender color but naturally Barbie has heels and Kelly's shoes are the standard flat buckled dress shoes. Also included is a hard plastic pink gift box with purple bow in molded plastic. I can't see if the box is a solid piece of plastic or two pieces that "open".
Item Number 18116 – Pale blue evening dresses.
Item Number 18117 – Ken & Tommy baseball theme outfits.
Item Number 18118 – Ken & Tommy business theme outfits with cardboard accessories.
Item Number 18119 – Ken & Tommy red plaid tops, with denim pants and cardboard accessories.
Above text adapted from 1998 Mattel USA and UK Vendor Catalogs.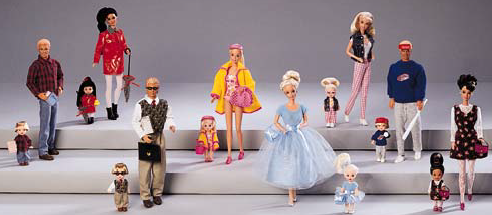 BarbieReference.com is a work in progress. I want to get up as many images as soon as possible. This Fashion Avenue post includes in-package images of all fashions in this line for this year. Posts for each fashion pack, and it's contents (dresses, shoes, accessories) will be added when they are available.
There are major differences between BarbieReference.com
Fashion Avenue line names and years and other websites read about them here.