Hey Doll Fans! Looking for Fashion Avenue to add to your collection? Please use these buttons to start your search:




BarbieReference.com is ad-supported. When you buy through links on our site, we may earn an affiliate commission (at no cost to you), which helps to keep the site online and updating.
In 1998 Skipper has her own Fashion Avenue line, in the larger "Teen Skipper" size that debuted in the 1997 retail year. Skipper like the Kelly and Ken lines, are in packages with just the doll name, "teen Skipper" on the front, with teen in yellow all lowercase letters, hearts and a border. The inside of the front background is white and grey with simple daisy line drawing, and "wood" tables to "hold" the accessories of each outfit. The back of the package is similar to Kelly's line with a pink and periwinkle background with "photos" of Skipper and her friends wearing the outfits in this line. The text on the back is: "Real Clothes for Teen Skipper doll! Fashion Avenue Collection teen Skipper What we wear! Teen clothes are trendy and fun … For day, for play, for everyone! Cool for parties and school! Fashion Avenue rules! What we love! Bright new colors and styles! And ultra-hip trends. Just right for me … and all my teen friends! Fashions fit most Teen Skipper dolls. Dolls and fashions sold separately, subject to availability. Colors and accessories may vary." Cool, trendy, teen-inspired fashions for Teen Skipper doll featuring realistic details, fabrics and fashion accessories. Dolls not included.
Assortment Number 18379
Item Number 18380 – Bright pink, orange, and yellow dress.
Item Number 18379 – Red "leather" jacket outfit comes with shorts, not the pants shown in the catalog.
Item Number 18382 – Blue shimmer dress with sheer sleeves.
Item Number 18383 – Lavender "velvet" and pink "satin" pants outfit.
Item Number 19506 – Yellow citrus themed pant outfit.
Item Number 19507 – Mint green shorts outfit. Not pictured on back of package, but is in catalog.
Above text adapted from 1998 Mattel USA Vendor Catalog.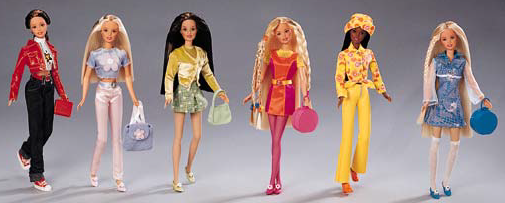 BarbieReference.com is a work in progress. I want to get up as many images as soon as possible. This Fashion Avenue post includes in-package images of all fashions in this line for this year. Posts for each fashion pack, and it's contents (dresses, shoes, accessories) will be added when they are available.
There are major differences between BarbieReference.com
Fashion Avenue line names and years and other websites read about them here.