Hey Doll Fans! Looking for Fashion Avenue to add to your collection? Please use these buttons to start your search:




BarbieReference.com is ad-supported. When you buy through links on our site, we may earn an affiliate commission (at no cost to you), which helps to keep the site online and updating.
Hip, trendy outfits for Barbie doll featuring all the latest looks with realistic details, fabrics and accessories. The widest variety of styles ever! Cool, daytime fashions with trendy accessories that Barbie can wear anywhere.
Assortment Number 18126
Item Number 16394 – Denim vest, white turtleneck, and floral skirt with belt.
Item Number 18127 – Silver skirt suit with purple top and pantyhose.
Item Number 18128 – Pin striped black and silver dress with sheer pink collar, sleeves and pantyhose.
Item Number 18129 – White blazer with blue "fur" collar. Blue glitter pants, pale blue ankle boots and grey ski goggles.
Item Number 18130 – Red turtleneck short sleeve sweater with blue, white and gold pattern on front. Blue skirt with gold button detail. Red heels, opaque sunglasses and purse.
Item Number 18131 – Punk turtleneck short sleeve top. Pink, blue, white, and yellow plaid skirt. Heart buckle belt. Pink pantyhose, shimmer pink ankle boots. Matching plaid accessory.
Item Number 18133 – Short dress, red and black and white check bottom. Daisy detail at bust. Red hat, black round pure and black heels.
Item Number 18134 – Shiny mint green skirt suit. Glitter pink turtleneck top and mint green skirt are actually a single piece dress. Accessories include pink pantyhose, heels and round purse. Chain belt look at waist.
Item Number 18135 – Pink pantsuit with gold-tone "buttons" and pink "fur" at collar and cuffs.
Item Number 18136 – Black and silver striped long sleeve turtleneck. Pink "corduroy" dress jumper.
Item Number 18137 – Blue and white check skirt suit with pink details.
Item Number 18139 – Pink animal print top, black pants (possibly leggings or opaque tights).
Item Number 18140 – Lavender and white skirt suit.
Item Number 18373 – Blue, red, white and gold sailor themed skirt suit.
Item Number 18375 – Black short dress and gold jacket with animal print details.
Item Number 18376 – Red and plaid skirt suit.
Item Number 18377 – Pink and white leather looking short skirt.
Item Number 18378 – Blue and green plaid short jumper dress, white turtleneck top.
Pictured in 1998 Mattel Vendor Catalog but not released:
Purple pantsuit with silver belt, collar and pocket flaps. Silver shoes and round purse.
Turquoise skirt suit with white "fur" at collar. Matching pantyhose, shoes and purse.
Above text adapted from 1998 Mattel USA and UK Vendor Catalogs.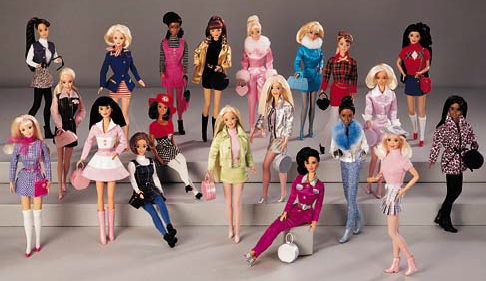 BarbieReference.com is a work in progress. I want to get up as many images as soon as possible. This Fashion Avenue post includes in-package images of all fashions in this line for this year. Posts for each fashion pack, and it's contents (dresses, shoes, accessories) will be added when they are available. Item numbers coming to this post soon.
There are major differences between BarbieReference.com
Fashion Avenue line names and years and other websites read about them here.