Hey Doll Fans! Looking for Fashion Avenue to add to your collection? Please use these buttons to start your search:




BarbieReference.com is ad-supported. When you buy through links on our site, we may earn an affiliate commission (at no cost to you), which helps to keep the site online and updating.
In 1997 Mattel added Fashion Avenue line names to the packages. This year they introduced Internationale line, a short two-year line. Each outfit represented a different season, not country, but the packaging included photographs of Barbie in front of international landmarks in Paris, London, Los Angeles, and Moscow. The package backing has a new design, pink with four photographs of Barbie in her fashions against outdoor, city scenes with text "Barbie Fashion Avenue Collection Detailed Fashions with Style! Collect all four fashions. Clip out "SNAPSHOTS" from Barbie doll." Barbie doll's most glamorous collection ever, designed exclusively for the Internationale line. Includes shoes and accessories.
Assortment Number 15902
Item Number 15903 – Spring: Pink outfit, bonnet with flower accents, matching purse, pumps. Pictured in front of Eiffel Tower.
Item Number 15904 – Summer: White jacket, ocean-themed print pants, purse, shoes. Pictured in front of palm trees.
Item Number 15905 – Fall: Eggplant outfit with lace trim, purse, stockings, granny boots. Pictured in front of Elizabeth Tower, Westminster, a.k.a. Big Ben.
Item number 15906 – Winter: Fuchsia dress, boots, hat, muff. Pictured in front of Saint Basil's Cathedral.
Above text adapted from 1997 Mattel USA Vendor Catalog.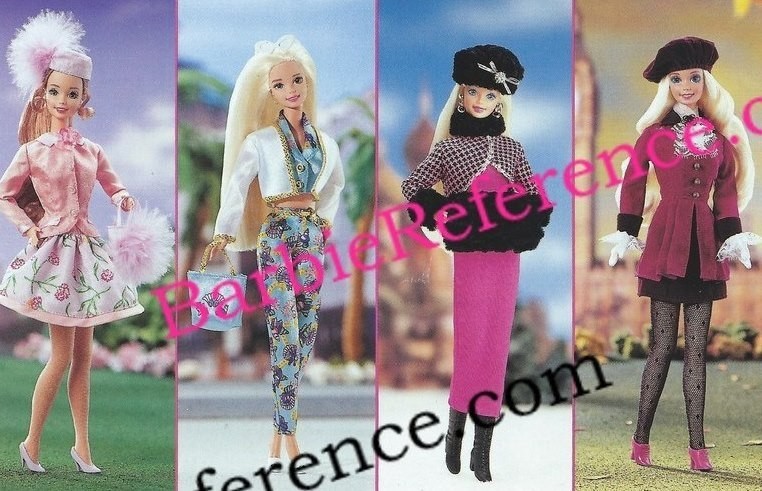 BarbieReference.com is a work in progress. I want to get up as many images as soon as possible. This Fashion Avenue post includes in-package images of all fashions in this line for this year. Posts for each fashion pack, and it's contents (dresses, shoes, accessories) will be added when they are available.
There are major differences between BarbieReference.com
Fashion Avenue line names and years and other websites read about them here.