Hey Doll Fans! Looking for Fashion Avenue to add to your collection? Please use these buttons to start your search:




BarbieReference.com is ad-supported. When you buy through links on our site, we may earn an affiliate commission (at no cost to you), which helps to keep the site online and updating.
In 1997 Mattel added Fashion Avenue line names to the packages. They reissued some of the fashions from 1996 and added new ones. Some of the new ones are the same fashions as last year but change color. For example a purple and black dress from 1996's Party line is reissued with silver instead of purple fabric and one 1996 Denim line outfit is moved to Boutique. The mint green nightgown was slightly altered and pink robe were sold in 1995 in Europe and Canada. The package copyright date on both was 1994 and fashion line named Lingerie Fashion, without the Fashion Avenue label. Both are included her for comparison, and should not be considered part of the Fashion Avenue line. Pretty ensembles for Barbie doll, each with coordinating shoes and comb or brush.
Assortment Number 17332
Item Number 15873 – Blue and white nightgown with lace trim.
Item Number 15874 – Floral print top and bottoms.
Item Number 15875 – Lilac chemise, pink bra and panties.
Item Number 15876 – Pink corset, pink slip and stockings.
Item Number 12173 – Pink brushed tricot robe. (1995 Europe exclusive re-issue. Not shown in catalog image, but included in gallery in this post)
Item Number 14289 – Mint robe and nightgown. (1996 USA re-issue)
Above text adapted from 1997 Mattel USA Vendor Catalog.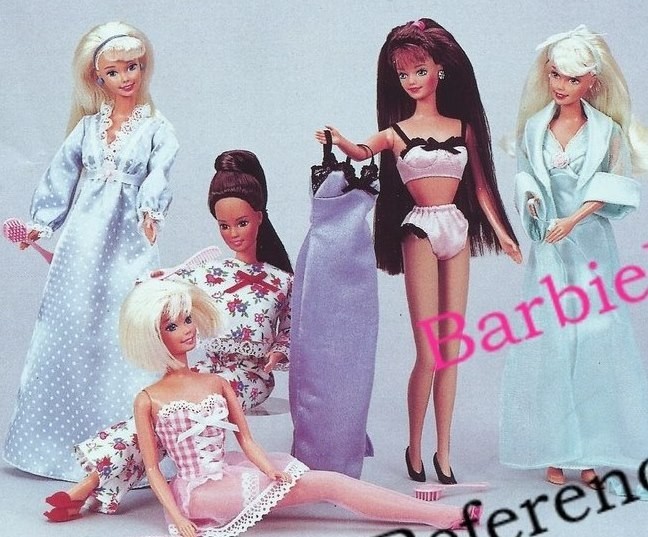 BarbieReference.com is a work in progress. I want to get up as many images as soon as possible. This Fashion Avenue post includes in-package images of all fashions in this line for this year. Posts for each fashion pack, and it's contents (dresses, shoes, accessories) will be added when they are available.
There are major differences between BarbieReference.com
Fashion Avenue line names and years and other websites read about them here.