Hey Doll Fans! Looking for Fashion Avenue to add to your collection? Please use these buttons to start your search:




BarbieReference.com is ad-supported. When you buy through links on our site, we may earn an affiliate commission (at no cost to you), which helps to keep the site online and updating.
In 1997 Mattel added Fashion Avenue line names to the packages. This year they added four Matchin' Styles for Barbie and Kelly. Kelly was introduced in 1996 and was so popular her line was expanded to include friends and fashions in 1997. The package backing of this line has a new design, pink with four photographs of Barbie and Kelly in their fashions, four of the five fashions from this year are pictured. The inside package background of Matchin' Styles is an adjustment of the standard Fashion Avenue style. Instead of a brown gold-tone look, the arch and flower print is in pink against a white background with Barbie & Kelly in the 1990's logo font. The background is similar to the Internationale line but with photographs in an oval "frame" of white and floral print. Four of the five fashion packs for this year are pictured. The back has text Barbie & "Kelly Baby Sister of Barbie doll", which will be the name of Kelly's own line when it debuts next year. Full text on back is: Fashion Avenue Collection Collect matching fashions for Barbie and Kelly! Barbie & Kelly Baby Sister of Barbie doll Fashions fit most Barbie and Kelly dolls. Dolls not included. Fashions sold separately and subject to availability. Colors and accessories may vary.
Barbie doll and her little sister, Kelly doll look adorable in these cool matching outfits! Designed exclusively for the Fashion Avenue collection. The newest, trendiest looks times two! Matching fashions for Barbie and Kelly featuring realistic fabrics and lots of fun detailing like buttons and buckles.
Assortment Number 17292
Item Number 17293 – Matching light blue baseball-style jackets with white sleeves, striped tights, hats and shoes.
Item Number 17294 – Matching "denim" fitted dresses with leopard-print "fur" trim and cool purses.
Item Number 17295 – Matching pink sweaters with white trim, green gingham skirts, matching purses and shoes.
Item Number 17296 – Matching pink net party dresses with special detailing, shoes and purses.
Item Number 18728 – Multicolored ski jacket with fur trim, and green tights. Not included in catalog list nor shown in pictures.
Above text adapted from 1997 Mattel USA Vendor Catalog.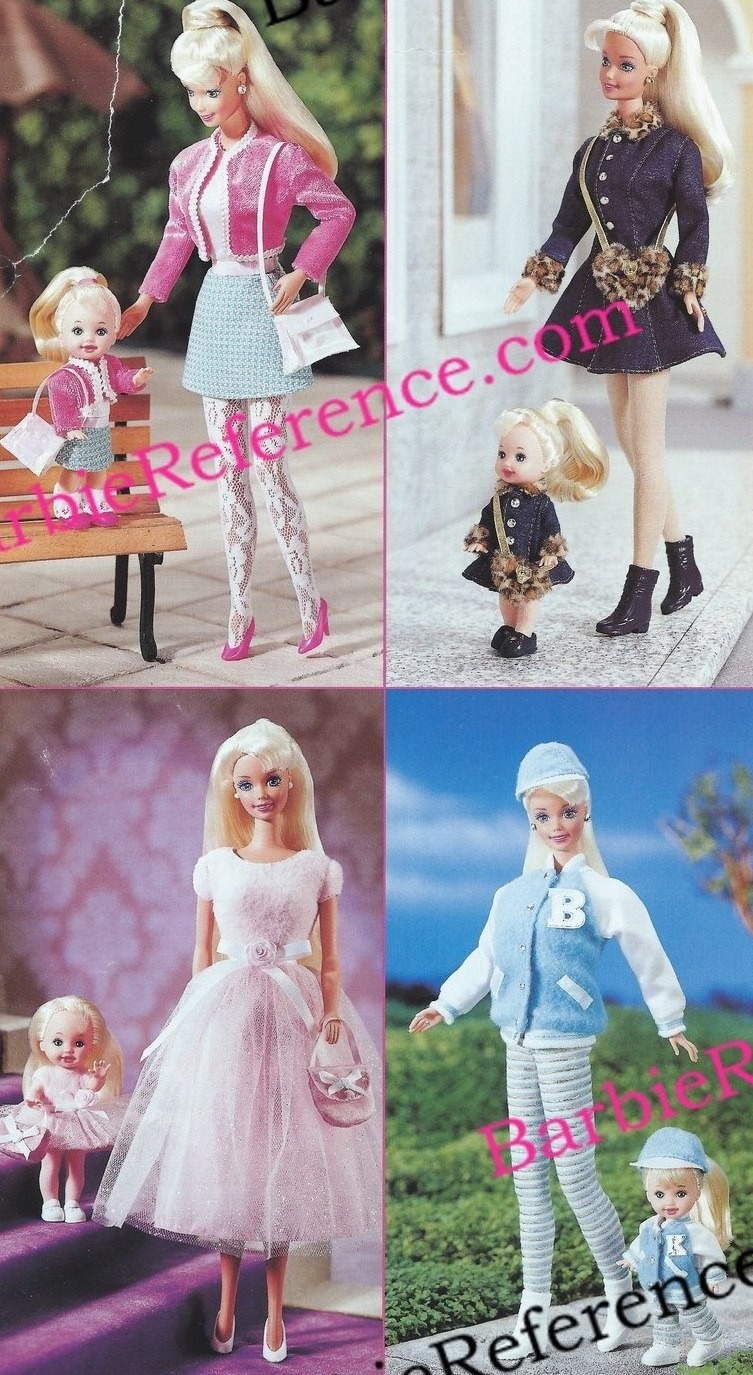 BarbieReference.com is a work in progress. I want to get up as many images as soon as possible. This Fashion Avenue post includes in-package images of all fashions in this line for this year. Posts for each fashion pack, and it's contents (dresses, shoes, accessories) will be added when they are available.
There are major differences between BarbieReference.com
Fashion Avenue line names and years and other websites read about them here.