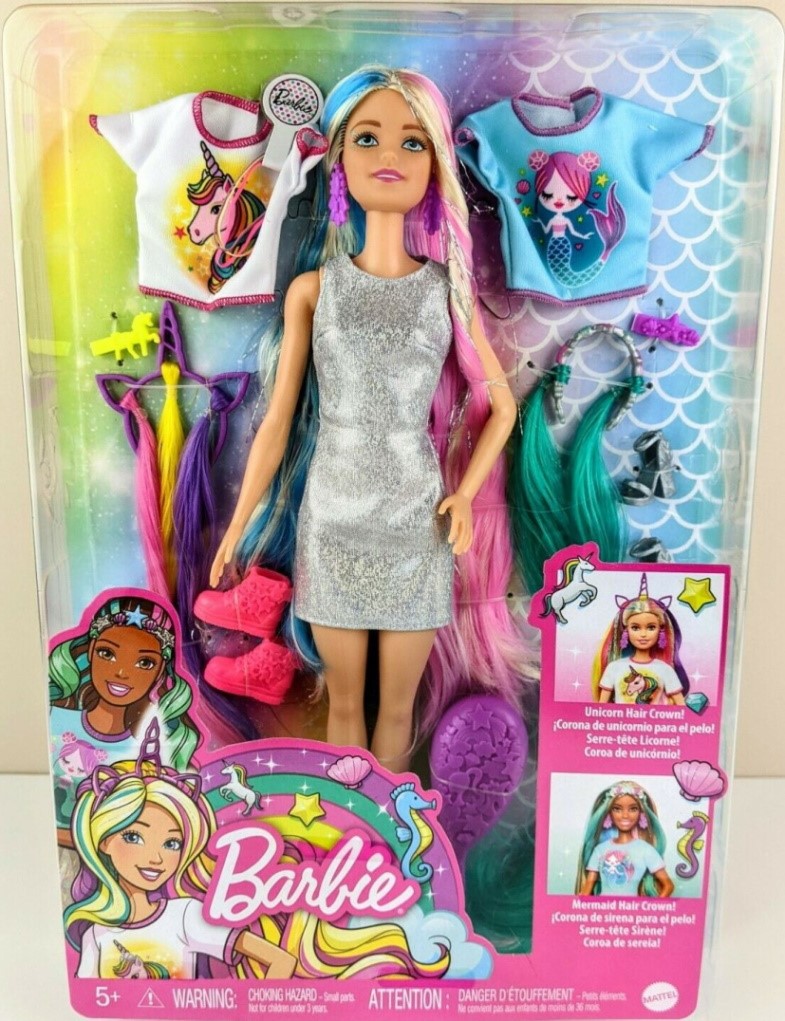 Unicorn or mermaid? Barbie Fantasy Hair doll doesn't need to choose, she comes with two fantasy looks that each include a colorful crown with hair extensions, themed top and accessories. The transformation to a mermaid or unicorn is easy! Dress Barbie doll in the blue mermaid graphic t-shirt and add the crown decorated with starfish, seashells and 2 long teal hair extensions to dive into the mermaid look. Or leap into the unicorn look and dress her in the rainbow t-shirt with unicorn graphic and the crown with a horn, ears and 3 colorful hair extensions in pink, yellow and purple. The colorful hair extensions on the crown add even more colors to the pink, blue and glittery streaks in Barbie doll's long hair. Kids can create fantasy hairstyles, plus a pair of sneakers to expand the storytelling and styling options. Kids 3 to 7 years old will love switching up Barbie doll's look and sending her out to shine! Includes Barbie doll wearing fashion and accessories, two crowns with hair extensions, two graphic t-shirts, a second pair of shoes, elastic hairbands, two hair clips and a brush. Doll cannot stand alone. Colors and decorations may vary. Above text adapted from shop.mattel.com description retrieved May 1, 2022.
Text on box front: Unicorn Hair Crown! Mermaid Hair Crown!
Text on box back: Barbie Doll and Accessories Fantasy Hair From Unicorn to Mermaid! Style & Switch!
No text on sides, top, nor bottom.
Item Number: GHN04
Assortment Number: GHN03
Released: 2020
Year on box: 2019
Original MSRP: 19.99 USD
Age: 3 years and up
UPC on box: 8-87961-79754-1
See in 2020 Mattel Catalogs, and in 2021. Unfortunately these are not in our collection.